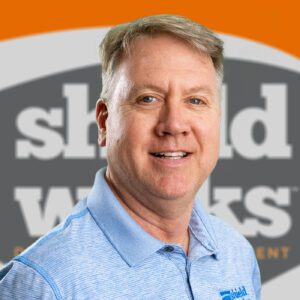 James Pennington
Owner
James and his brother Josh founded ShieldWorks over 20 years ago with the goal of becoming industry leaders in Interior Protection. To this day the Pennington brothers are proud to say they're able to witness the continued growth of their business and the development of team members into leaders. James knows from experience how rewarding it can be to foster a business as it grows from inception and beyond. 
James grew up in and around the Construction Industry thanks to his father Carlos' business, CE Pennington Company. James attended the University of Kentucky where he earned his Bachelor of Arts in Architecture. Following graduation, he grew his knowledge and skill as an architect working with The Kling-Lindquist Partnership and VOA Architects. In time he returned to work within the family business as VP of CE Pennington Company.
As a member of the fourth generation of his family to thrive in the construction business, James saw great opportunity for growth and a future in the emerging Interior Protection industry. Alongside his dad, James took the initial dive into the burgeoning industry. His brother James joined the new adventure and together the brothers formed ShieldWorks Dust and Debris Containment. It has indeed been an exciting adventure thus far with a bright future ahead!
What is a fun fact about you?
I have broken more bones snow skiing than any other activity…but am still passionate about going as often as I can.
What is something you can't live without?
The Kentucky Wildcats and COFFEE!
What do you love to do in your free time?
I love to spend time with family; go snow skiing as often as possible; run as far as I can; share my faith through experience with anyone that will listen.